Billund Airport Departures (BLL)
Not all flights may be showing. If not available use search above to find your flight by airline, airport or flight number.
Destination
Airline
Flight no.
Scheduled
Est./Actual
Status
Budapest (BUD)
Ryanair
FR8744
06:00
Scheduled
Amsterdam (AMS)
KLM
KL1340 expand_more(3)
06:00
Scheduled
Amsterdam (AMS)
Delta Air Lines
DL9402
06:00
Scheduled
Amsterdam (AMS)
Etihad Airways
EY7311
06:00
Scheduled
Amsterdam (AMS)
Kenya Airways
KQ1340
06:00
Scheduled
Navoiy (NVI)
Maersk Air Cargo
DJ2125
06:15
Scheduled
Paris (CDG)
Air France
AF1765 expand_more(5)
06:30
Scheduled
Paris (CDG)
Air Mauritius
MK9623
06:30
Scheduled
Paris (CDG)
Delta Air Lines
DL8336
06:30
Scheduled
Paris (CDG)
GOL Linhas Aereas
G35254
06:30
Scheduled
Paris (CDG)
Kenya Airways
KQ3021
06:30
Scheduled
Paris (CDG)
WestJet
WS5109
06:30
Scheduled
Munich (MUC)
Lufthansa
LH2437
06:30
Cancelled
Copenhagen (CPH)
Sunclass Airlines
DK444
07:00
Scheduled
Frankfurt (FRA)
Lufthansa
LH843 expand_more(4)
07:05
Scheduled
Frankfurt (FRA)
Air Canada
AC9564
07:05
Scheduled
Frankfurt (FRA)
All Nippon Airways
NH5401
07:05
Scheduled
Frankfurt (FRA)
Singapore Airlines
SQ2285
07:05
Scheduled
Frankfurt (FRA)
United Airlines
UA9535
07:05
Scheduled
No flight departures were found at Billund Airport.
Flight Departures at Billund Airport
At Billund Airport, all passengers will be able to experience a small offer of shopping, dining and snacking options within the airport terminal. Furthermore, you can find special services at the airport, including ATM's, currency exchange options, early baggage drop-off, massage chairs, free WiFi connection, assistance for passengers with special needs, and mobile charging stations.
Shops and Restaurants at Billund Airport
At Billund Airport, you will find a nice selection of dining possibilities to choose from. You can find everything from a light meal to a delicious gourmet experience at Billund Airport. Travelers will encounter different cafes and restaurants that offer both gluten-free, lactose-free, vegan, and vegetarian selections. Some of the cafes and restaurants located at the airport include Diner, Gastro, Café Square, and Lagkagehuset. You can find a full list of all the different restaurants and cafes here.
The number of stores is very limited at Billund Airport. Nevertheless, you will be able to shop for some classic favorites, some of the latest styles, or maybe a gift for a special someone. Besides the duty-free shop, you will find Danish Design, LEGO, Bestseller and a few more. You can see the entire list of shops at BLL Airport here.
Free WiFi Connection at Billund Airport
All travelers can access free WiFi connection at Billund Airport in the terminal areas including both sides of security. You will also find WiFi connections throughout the remaining areas of the airport terminal buildings.
For visitors to get online, simply choose the Airport WiFi connection named; FREEinternetBLL. Then you will have to launch a web browser on your device where you will visit the welcome page. Please follow the instructions on the screen. Once you have accepted the term and conditions of use, you will be sent to the airport's website www.bll.dk.
All travelers can enjoy 1 Mbit/s free per client.
If you encounter any problems connecting or have any other questions about the network, please contact any of the airport staff or contact the airport at telephone number: +45 76 50 50 50.
Billund Airport Parking
All passengers can quickly and easily park their car at the designated car parking facilities at Billund Airport. The parking spaces at BLL Airport is a great place that gives travelers direct access to the airport terminal within minutes. It can help save time before your next trip, or if you are going to pick up a passenger.
Billund Airport guarantees that there always is an available parking space at the airport. However, if you reserve your parking space in advance, there will be money to save.
There are seven parking zones named after countries of the world; USA, Thailand, Kenya, Spain, Egypt, China, and Denmark plus a P-house. Three of the parking zones are connected by a shuttle bus, while the other is within walking distance from the airport terminal.
At Billund Airport, travelers can enjoy everything from short-stay parking to long-stay parking as well as an all-inclusive choice and a park & fly option. Here you can find a map of the parking area of Billund Airport.
Short-stay parking is located across the airport terminal at Billund Airport, behind the P-House, on the ground level. This area is used primarily for dropping off and picking up passengers at the airport. Parking in this area is free for the first hour.
The P-House is located just across the airport terminal at Billund Airport on the ground level. Here travelers can enjoy covered parking spaces as well as convenient parking close to the terminal. For more information regarding the P-house, prices please refer to this website.
Long-stay parking is also available at Billund Airport, which is located at P1, P5, P6, P7, P8, P9 and P-house. Visitors can use the free shuttle bus service to and from the terminal.
Reservations can be made for parking at P1, P5, P6, P7, P8, P9, P-houses, and all-inclusive packages. When you reserve a parking space prior to your trip, you are ensured a parking space in one of the above-mentioned areas. For further information about the parking rates please refer to this website.
If you have any questions or concerns, you can contact LufthavnsParkeringen at Billund Airport on telephone number: +45 75 35 40 33.
Getting to and from Billund Airport
Billund Airport is accessible from route 30/Billundvej in Give or from route 28 towards Airport/Billund. The airport is located just 1.2 miles/1.9 km from Billund City Center.
All visitors going to and from Billund Airport can enjoy simple and comfortable transfer opportunities. Passengers will find a wide variety of transportation possibilities, including:
Buses: You will find numerous public bus routes going to and from the airport to destinations all over the Midtjylland region. The airport bus stop is located just outside of the terminal's main entrance.
Taxis: Taxis are available on the ground transportation area outside the main terminal at Billund Airport. All taxis are metered, and reservations are not required.
Airport Shuttles: All travelers can find several hotels and resorts that offer a shuttle bus service for your disposal to get you to and from the airport.
Car Rental Companies: Passengers can book a rental vehicle through one of the many operating car rental companies that serve Billund Airport.
Was your flight delayed or cancelled?
You may be eligible to receive up to 600 EUR compensation per person in your party..
Claim Now!
Beat the Queues
Don't stand sweating for 45 mins waiting for Security. Get a fast track and get through in 5 mins or less.
Book now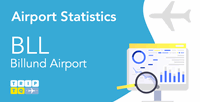 Passenger Traffic Surges 9% in Q2 at Billund Airport, outperforming pre-pandemic levels by 9.15%. This growth aligns with the immense recovery in Q2 2021, with a staggering rise of 923%.