Flights, Arrivals & Departures at Billund Airport
Origin
Airline
Flight no.
Scheduled
Est./Actual
Status
Oslo (OSL)
Sunclass Airlines
DK4559
00:41
Scheduled
Leipzig-halle (LEJ)
Compass Air Cargo
QY3193
02:53
Scheduled
Iasi (IAS)
Wizz Air
W43695
07:45
Scheduled
London (STN)
Ryanair
FR5164
08:25
Scheduled
Amsterdam (AMS)
KLM
KL1341 expand_more(3)
09:40
Scheduled
Amsterdam (AMS)
Delta Air Lines
DL9332
09:40
Scheduled
Amsterdam (AMS)
Etihad Airways
EY7388
09:40
Scheduled
Amsterdam (AMS)
Kenya Airways
KQ1341
09:40
Scheduled
Warsaw (WAW)
LOT
LO465
09:45
Scheduled
Stockholm (ARN)
SAS
SK2497
09:55
Scheduled
Frankfurt (FRA)
Lufthansa
LH836 expand_more(4)
10:15
Scheduled
Frankfurt (FRA)
Air Canada
AC9563
10:15
Scheduled
Frankfurt (FRA)
All Nippon Airways
NH5400
10:15
Scheduled
Frankfurt (FRA)
Singapore Airlines
SQ2184
10:15
Scheduled
Frankfurt (FRA)
United Airlines
UA9532
10:15
Scheduled
Budapest (BUD)
Ryanair
FR8745
10:35
Scheduled
Amsterdam (AMS)
KLM
KL1343 expand_more(4)
11:20
Cancelled
Amsterdam (AMS)
Air France
AF8326
11:20
Cancelled
Amsterdam (AMS)
Delta Air Lines
DL9334
11:20
Cancelled
Amsterdam (AMS)
Etihad Airways
EY7371
11:20
Cancelled
Amsterdam (AMS)
Kenya Airways
KQ1343
11:20
Cancelled
London (LCY)
British Airways
BA8210
11:40
Scheduled
Manchester (MAN)
Private Wings
BA8246 expand_more(1)
11:40
Scheduled
Manchester (MAN)
Qatar Airways
QR6200
11:40
Scheduled
Munich (MUC)
Lufthansa
LH2434
12:35
Scheduled
Frankfurt (FRA)
Lufthansa
LH838 expand_more(2)
13:20
Scheduled
Frankfurt (FRA)
Air Canada
AC9561
13:20
Scheduled
Frankfurt (FRA)
United Airlines
UA9533
13:20
Scheduled
Amsterdam (AMS)
KLM
KL1345 expand_more(6)
13:25
Scheduled
Amsterdam (AMS)
Air France
AF8313
13:25
Scheduled
Amsterdam (AMS)
Delta Air Lines
DL9336
13:25
Scheduled
Amsterdam (AMS)
Etihad Airways
EY7009
13:25
Scheduled
Amsterdam (AMS)
GOL Linhas Aereas
G35684
13:25
Scheduled
Amsterdam (AMS)
ITA Airways
AZ3788
13:25
Scheduled
Amsterdam (AMS)
Kenya Airways
KQ1345
13:25
Scheduled
Las Palmas (LPA)
Air Baltic
BT1006
13:25
Scheduled
Riga (RIX)
Air Baltic
BT147 expand_more(1)
13:35
Scheduled
Riga (RIX)
SAS
SK9625
13:35
Scheduled
Navoi (NVI)
Maersk Air Cargo
DJ2126
14:04
Scheduled
London (STN)
Ryanair
FR5172
14:30
Scheduled
Paris (CDG)
Air France
AF1264 expand_more(6)
14:40
Scheduled
Paris (CDG)
Air Austral
UU8264
14:40
Scheduled
Paris (CDG)
Air Mauritius
MK9620
14:40
Scheduled
Paris (CDG)
Delta Air Lines
DL8272
14:40
Scheduled
Paris (CDG)
Etihad Airways
EY5882
14:40
Scheduled
Paris (CDG)
GOL Linhas Aereas
G35250
14:40
Scheduled
Paris (CDG)
Kenya Airways
KQ3790
14:40
Scheduled
Dusseldorf (DUS)
British Airways
BA8202
15:20
Scheduled
Oslo (OSL)
SAS
SK1905 expand_more(1)
16:40
Scheduled
Oslo (OSL)
Air Baltic
BT6131
16:40
Scheduled
Bergen (BGO)
Wideroe
WF282
17:15
Scheduled
Istanbul (IST)
Turkish Airlines
TK1487 expand_more(1)
17:15
Scheduled
Istanbul (IST)
SAS
SK3488
17:15
Scheduled
Gothenburg (GOT)
British Airways
BA8284
17:15
Scheduled
Amsterdam (AMS)
KLM
KL1347 expand_more(3)
17:50
Scheduled
Amsterdam (AMS)
Delta Air Lines
DL9534
17:50
Scheduled
Amsterdam (AMS)
Etihad Airways
EY7305
17:50
Scheduled
Amsterdam (AMS)
Kenya Airways
KQ1347
17:50
Scheduled
Sorvágur (FAE)
Atlantic Airways
RC470 expand_more(1)
18:05
Scheduled
Sorvágur (FAE)
KLM
KL9546
18:05
Scheduled
Frankfurt (FRA)
Lufthansa
LH840 expand_more(2)
18:10
Scheduled
Frankfurt (FRA)
TAP Air Portugal
TP6712
18:10
Scheduled
Frankfurt (FRA)
United Airlines
UA9325
18:10
Scheduled
Stockholm (ARN)
SAS
SK1497 expand_more(1)
18:55
Scheduled
Stockholm (ARN)
TAP Air Portugal
TP5523
18:55
Scheduled
Oslo (OSL)
Norwegian
DY998
19:10
Scheduled
Puerto del Rosario (FUE)
Jettime
JP512
19:17
Scheduled
Gdansk (GDN)
Ryanair
FR3686
19:25
Scheduled
Malaga (AGP)
Ryanair
FR2531
21:25
Scheduled
London (LCY)
British Airways
BA8212
21:35
Scheduled
Manchester (MAN)
British Airways
BA8248 expand_more(1)
21:35
Scheduled
Manchester (MAN)
Qatar Airways
QR6202
21:35
Scheduled
Bournemouth (BOH)
Maersk Air Cargo
DJ2128
21:48
Scheduled
London (STN)
Ryanair
FR5178
22:05
Scheduled
Amsterdam (AMS)
KLM
KL1349 expand_more(4)
22:45
Scheduled
Amsterdam (AMS)
Etihad Airways
EY7422
22:45
Scheduled
Amsterdam (AMS)
ITA Airways
AZ3792
22:45
Scheduled
Amsterdam (AMS)
Kenya Airways
KQ1349
22:45
Scheduled
Amsterdam (AMS)
Xiamen Air
MF9689
22:45
Scheduled
Paris (CDG)
Air France
AF1764 expand_more(4)
23:05
Scheduled
Paris (CDG)
Air Mauritius
MK9622
23:05
Scheduled
Paris (CDG)
GOL Linhas Aereas
G35252
23:05
Scheduled
Paris (CDG)
Kenya Airways
KQ3032
23:05
Scheduled
Paris (CDG)
WestJet
WS5125
23:05
Scheduled
Munich (MUC)
Lufthansa
LH2436
23:20
Scheduled
Frankfurt (FRA)
Lufthansa
LH842 expand_more(2)
23:30
Cancelled
Frankfurt (FRA)
All Nippon Airways
NH5402
23:30
Cancelled
Frankfurt (FRA)
Singapore Airlines
SQ2002
23:30
Cancelled
Sal (SID)
Sunclass Airlines
DK445
23:50
Scheduled
Destination
Airline
Flight no.
Scheduled
Est./Actual
Status
Stockholm (ARN)
Jettime
JP780
00:00
Scheduled
Orebro (ORB)
Jettime
JP780
00:00
Scheduled
Amsterdam (AMS)
KLM
KL1340 expand_more(3)
06:00
Scheduled
Amsterdam (AMS)
Delta Air Lines
DL9402
06:00
Scheduled
Amsterdam (AMS)
Etihad Airways
EY7311
06:00
Scheduled
Amsterdam (AMS)
Kenya Airways
KQ1340
06:00
Scheduled
Budapest (BUD)
Ryanair
FR8744
06:00
Scheduled
Navoiy (NVI)
Maersk Air Cargo
DJ2125
06:15
Scheduled
Paris (CDG)
Air France
AF1765 expand_more(5)
06:30
Scheduled
Paris (CDG)
Air Mauritius
MK9623
06:30
Scheduled
Paris (CDG)
Delta Air Lines
DL8336
06:30
Scheduled
Paris (CDG)
GOL Linhas Aereas
G35254
06:30
Scheduled
Paris (CDG)
Kenya Airways
KQ3021
06:30
Scheduled
Paris (CDG)
WestJet
WS5109
06:30
Scheduled
Munich (MUC)
Lufthansa
LH2437
06:30
Cancelled
Copenhagen (CPH)
Sunclass Airlines
DK444
07:00
Scheduled
Frankfurt (FRA)
Lufthansa
LH843 expand_more(5)
07:05
Scheduled
Frankfurt (FRA)
Air Canada
AC9564
07:05
Scheduled
Frankfurt (FRA)
All Nippon Airways
NH5401
07:05
Scheduled
Frankfurt (FRA)
Singapore Airlines
SQ2285
07:05
Scheduled
Frankfurt (FRA)
TAP Air Portugal
TP7569
07:05
Scheduled
Frankfurt (FRA)
United Airlines
UA9535
07:05
Scheduled
Manchester (MAN)
Private Wings
BA8245
07:50
Scheduled
London (LCY)
British Airways
BA8209
07:55
Scheduled
Iasi (IAS)
Wizz Air
W43696
08:20
Scheduled
Fuerteventura (FUE)
Jettime
JP511
08:30
Scheduled
Vagar (FAE)
Atlantic Airways
RC473
08:55
Scheduled
London (STN)
Ryanair
FR5165
09:05
Scheduled
Amsterdam (AMS)
KLM
KL1342 expand_more(5)
10:15
Scheduled
Amsterdam (AMS)
Air France
AF8322
10:15
Scheduled
Amsterdam (AMS)
Delta Air Lines
DL9182
10:15
Scheduled
Amsterdam (AMS)
Etihad Airways
EY7010
10:15
Scheduled
Amsterdam (AMS)
GOL Linhas Aereas
G35694
10:15
Scheduled
Amsterdam (AMS)
Kenya Airways
KQ1342
10:15
Scheduled
Warsaw (WAW)
LOT
LO466
10:25
Scheduled
Stockholm (ARN)
SAS
SK2498 expand_more(1)
10:30
Scheduled
Stockholm (ARN)
TAP Air Portugal
TP5563
10:30
Scheduled
Frankfurt (FRA)
Lufthansa
LH837 expand_more(2)
10:55
Scheduled
Frankfurt (FRA)
Air Canada
AC9562
10:55
Scheduled
Frankfurt (FRA)
United Airlines
UA9534
10:55
Scheduled
Amsterdam (AMS)
KLM
KL1344 expand_more(6)
12:05
Cancelled
Amsterdam (AMS)
Air France
AF8312
12:05
Cancelled
Amsterdam (AMS)
Delta Air Lines
DL9416
12:05
Cancelled
Amsterdam (AMS)
Etihad Airways
EY7364
12:05
Cancelled
Amsterdam (AMS)
ITA Airways
AZ3749
12:05
Cancelled
Amsterdam (AMS)
Kenya Airways
KQ1344
12:05
Cancelled
Amsterdam (AMS)
Xiamen Air
MF9644
12:05
Cancelled
Gothenburg (GOT)
British Airways
BA8283 expand_more(1)
12:10
Scheduled
Gothenburg (GOT)
Finnair
AY5868
12:10
Scheduled
Dusseldorf (DUS)
British Airways
BA8201
12:20
Scheduled
Munich (MUC)
Lufthansa
LH2435
13:15
Scheduled
Malaga (AGP)
Ryanair
FR2532
13:45
Scheduled
Amsterdam (AMS)
KLM
KL1346 expand_more(6)
14:00
Scheduled
Amsterdam (AMS)
Air France
AF8304
14:00
Scheduled
Amsterdam (AMS)
Delta Air Lines
DL9417
14:00
Scheduled
Amsterdam (AMS)
Etihad Airways
EY7384
14:00
Scheduled
Amsterdam (AMS)
ITA Airways
AZ3791
14:00
Scheduled
Amsterdam (AMS)
Kenya Airways
KQ1346
14:00
Scheduled
Amsterdam (AMS)
Xiamen Air
MF9646
14:00
Scheduled
Frankfurt (FRA)
Lufthansa
LH839 expand_more(4)
14:05
Scheduled
Frankfurt (FRA)
Air Canada
AC9067
14:05
Scheduled
Frankfurt (FRA)
All Nippon Airways
NH5403
14:05
Scheduled
Frankfurt (FRA)
TAP Air Portugal
TP7575
14:05
Scheduled
Frankfurt (FRA)
United Airlines
UA8850
14:05
Scheduled
Riga (RIX)
Air Baltic
BT148 expand_more(1)
14:15
Scheduled
Riga (RIX)
SAS
SK9624
14:15
Scheduled
Gran Canaria (LPA)
Air Baltic
BT1007
14:25
Scheduled
London (STN)
Ryanair
FR5173
15:00
Scheduled
Paris (CDG)
Air France
AF1265 expand_more(7)
15:20
Scheduled
Paris (CDG)
Air Austral
UU8265
15:20
Scheduled
Paris (CDG)
Air Mauritius
MK9621
15:20
Scheduled
Paris (CDG)
China Eastern Airlines
MU1708
15:20
Scheduled
Paris (CDG)
Delta Air Lines
DL8519
15:20
Scheduled
Paris (CDG)
Etihad Airways
EY5880
15:20
Scheduled
Paris (CDG)
GOL Linhas Aereas
G35256
15:20
Scheduled
Paris (CDG)
Kenya Airways
KQ3033
15:20
Scheduled
Gdansk (GDN)
Ryanair
FR3687
16:10
Scheduled
Bournemouth (BOH)
Maersk Air Cargo
DJ2127
16:25
Scheduled
Oslo (OSL)
SAS
SK1902 expand_more(1)
17:15
Scheduled
Oslo (OSL)
Air Baltic
BT6126
17:15
Scheduled
Bergen (BGO)
Wideroe
WF283
17:40
Scheduled
Manchester (MAN)
British Airways
BA8247 expand_more(1)
17:45
Scheduled
Manchester (MAN)
Qatar Airways
QR6201
17:45
Scheduled
London (LCY)
British Airways
BA8211
17:50
Scheduled
Istanbul (IST)
Turkish Airlines
TK1488 expand_more(1)
18:10
Scheduled
Istanbul (IST)
SAS
SK3489
18:10
Scheduled
Amsterdam (AMS)
KLM
KL1348 expand_more(3)
18:40
Scheduled
Amsterdam (AMS)
Etihad Airways
EY5814
18:40
Scheduled
Amsterdam (AMS)
ITA Airways
AZ3750
18:40
Scheduled
Amsterdam (AMS)
Kenya Airways
KQ1348
18:40
Scheduled
Frankfurt (FRA)
Lufthansa
LH841 expand_more(1)
18:50
Scheduled
Frankfurt (FRA)
Singapore Airlines
SQ2185
18:50
Scheduled
Stockholm (ARN)
SAS
SK1498
19:25
Scheduled
Oslo (OSL)
Norwegian
DY999
19:40
Scheduled
London (STN)
Ryanair
FR5179
22:30
Scheduled
Flying To and From Billund Airport
This page provides information about the destinations that can be reached via Billund Airport.

Was your flight delayed or cancelled?
You may be eligible to receive up to 600 EUR compensation per person in your party..
Claim Now!
Beat the Queues
Don't stand sweating for 45 mins waiting for Security. Get a fast track and get through in 5 mins or less.
Book now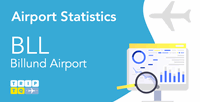 Passenger Traffic Surges 9% in Q2 at Billund Airport, outperforming pre-pandemic levels by 9.15%. This growth aligns with the immense recovery in Q2 2021, with a staggering rise of 923%.