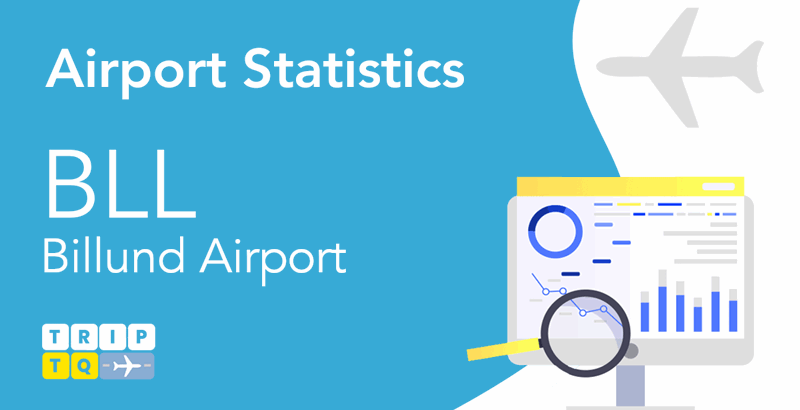 Q2 Passenger Traffic Surges 9% at Billund Airport
Billund Airport experienced a significant surge in passenger traffic in Q2 2023, with a 9.15% increase compared to the same quarter in 2019. This growth is particularly notable as it aligns with the strong recovery in Q2 2021 after the pandemic, which witnessed a remarkable rise of 923%. These figures indicate a positive trend of rebounding passenger numbers at Billund Airport, indicating a recovery in air travel and increased confidence in travel post-pandemic.
In Q2 2019, Billund Airport recorded a total of 1,022,728 passengers. However, due to the pandemic, Q2 2020 saw a significant decline in passenger numbers, with only 23,475 travelers passing through this hub. This marked a decrease of -97.70% compared to the same quarter in the previous year.
As travel restrictions eased in Q2 2021, the airport experienced a substantial rebound, serving 109,172 passengers. This represented an impressive increase of 365.06% compared to the previous year. The positive trend continued in Q2 2022, with this airport handling 1,077,695 passengers, indicating a growth rate of 887.15% compared to the same quarter in the previous year.
In Q2 2023, this airport recorded a modest increase of 3.59%, with 1,116,347 passengers compared to the same quarter in the previous year. Although the growth rate is lower than in previous years, it still indicates a positive trajectory for the recovery of this hub.
When comparing passenger statistics from 2018 to 2022, this airport consistently showed growth. In 2018, it served 3,476,751 passengers, which increased to 3,690,071 in 2019, marking a growth rate of 6.14%. However, the pandemic significantly impacted the aviation industry, resulting in a sharp decline in passenger numbers to 913,404 in 2020—representing a decrease of -75.25% compared to the previous year.
Despite the challenges faced in 2020, this airport rebounded in 2021, serving 1,347,342 passengers—an impressive growth rate of 47.51% compared to the previous year. The recovery continued in 2022, with a significant increase in passenger numbers to 3,681,583—a growth rate of 173.25% compared to the previous year.
Regarding flight statistics, this airport offers a range of domestic and international flights connecting passengers to various destinations. The top country destinations from Billund Airport include Germany, the United Kingdom, Spain, Greece, and Italy—destinations that attract many passengers.
As for international destinations, the top choices for passengers from this airport are London, Frankfurt, Amsterdam, Oslo, and Paris—major hubs offering a wide range of travel options and convenient connections.
For domestic travel, popular destinations from this airport include Copenhagen, Rønne, Aalborg, Thisted, and Aarhus—cities frequently visited by both business and leisure travelers within Denmark.
Multiple airlines serve this airport, with Ryanair, Lufthansa, KLM, Jettime, and SAS being the top carriers. These airlines provide various flight options, catering to the diverse needs of passengers.
As of August 2023, the flight statistics at this airport reflect the overall passenger numbers and destination trends. These statistics demonstrate its efforts to recover from the impact of the pandemic and provide convenient travel options for passengers.
Are you a travel publisher and would like this information for your site/blog/publication?
Contact us on this form to request Billund Airport Statistics (Statistics, data and infographics are available for a wide range of airports worldwide - please tell us your requirements using the form)
UNBEATABLE VALUE CAR RENTAL
FREE
Amendments,
FREE
Cancellations,
NO
card fees!

airport_shuttle Need Airport Transfers?
Useful Information about Billund Airport