Billund Airport Arrivals (BLL)
Not all flights may be showing. If not available use search above to find your flight by airline, airport or flight number.
Origin
Airline
Flight no.
Scheduled
Est./Actual
Status
No flight arrivals were found at Billund Airport.
Flight Arrivals at Billund Airport
Billund Airport was established in 1961 with a private 800-meter long runway. However, a renovation project was carried out during 1964 and the airport opened in November, with a 1,660-meter long runway, a small platform where aircraft could be served, and a control tower. In 2018, Billund Airport served over 3,500,000 passengers. The passenger number is still increasing year by year.
Billund Airport Ground Transportation
Billund Airport is located just 1.2 miles/1.9 km from Billund City Center. Furthermore, travelers can reach Vejle within 17 miles/28 km, Kolding within 25 miles/41 km, Esbjerg within 38 miles/61 km, and Aarhus with 61 miles/98 km.
From the airport, you will have a nice selection of ground transportation services that can bring you to and from your further location, including:
Billund Airport is accessible from route 30/Billundvej in Give or from route 28 towards Airport/Billund.
The address of the BLL Airport can be found below:
Billund Airport
Passagerterminalen 10
7190 Billund
Denmark
If you have any questions or concerns you can contact Billund Airport by telephone on +45 76 50 50 50.
Pick-up
All passengers at BLL Airport should use the airport's designated parking facilities when picking up or dropping off passengers. Please follow the road signs pointing towards the parking areas for short-stay parking. This is located across the airport terminal at Billund Airport, behind the P-House, on the ground level.
The short-stay parking area is used primarily for dropping off and picking up passengers at the airport. Parking in this area is free for the first hour.
Billund Airport - Special Need Services
All passengers with disabilities or reduced mobility (PRM) can get special services at Billund Airport. You can find assigned staff that will help provide any assistance to passengers with disabilities. However, please make sure that you make a relevant request at least 48 hours prior to the departure of your flight. Once arriving at the airport, please contact one of the service staff on the floor and they will assist you in the best possible way.
Was your flight delayed or cancelled?
You may be eligible to receive up to 600 EUR compensation per person in your party..
Claim Now!
Beat the Queues
Don't stand sweating for 45 mins waiting for Security. Get a fast track and get through in 5 mins or less.
Book now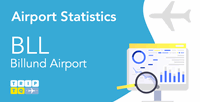 Passenger Traffic Surges 9% in Q2 at Billund Airport, outperforming pre-pandemic levels by 9.15%. This growth aligns with the immense recovery in Q2 2021, with a staggering rise of 923%.