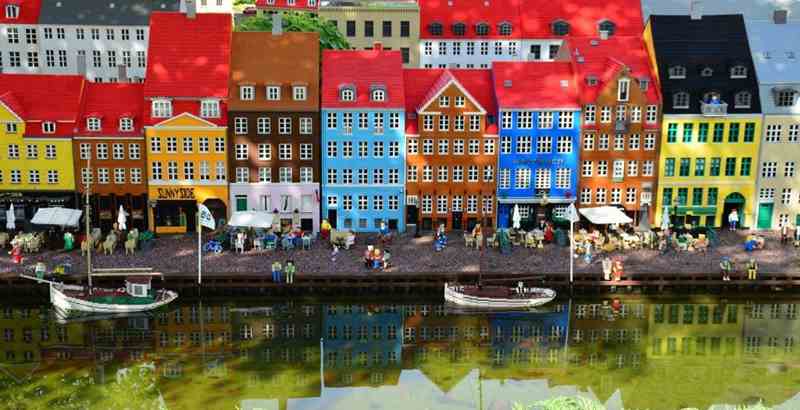 Billund Tourist Attractions
Once you arrive at Billund Airport in Denmark, you are only a short drive away from many amazing places to discover and popular attractions to see. Denmark is a rather small country however; the short distances between the cities give you the opportunity to discover many different places.
Below you can find inspiration for some great tours around Denmark. Some of them are in cities close to Billund while others will include tours in the capital of Denmark; Copenhagen. We hope you will find inspiration for some entertaining, charming, interesting, and memorable tours that you can enjoy together with your travel companion(s).
Aarhus: Hop-On Hop-Off Sightseeing Bus 24-hour Ticket
Located approximately 60 miles / 96 km from Billund Airport, you will find Aarhus City Center, which is one of the major cities in Denmark. With a Hop-On and Hop-Off Sightseeing Bus 24-hour Ticket, you get the chance to discover the many sights around the city.
Visitors will be driving around in a double-decker bus and can get off at any of the eight different stops along the way. Then you can explore everything from the summer residence of the Danish Royal Family at Marselisborg Palace to one of Europe's longest shopping streets. You can also choose to attend one of the many public events that take place in Tangkrogen Park or visit the popular AROS Art Museum to experience the marvelous Rainbow Panorama.
During the bus ride, you can listen to an on-board audio guide that is available in eight languages. This guide will tell you many interesting facts about Aarhus and its many sights and help you decide where to hop off!
The hop-on and hop-off bus stop the following places:
Cruise Terminal
Marselisborg Palace
Culture & Market Square and Tangkrogen park
Aarhus City Hall and Bell Tower
AROS Art Museum
The Old Town Open-Air Museum
Møllestien/Aarhus River
Aarhus Cathedral/Stroeget
Aarhus like a Local: Customized Private Tour
With this Aarhus like a Local: Customized Private Tour, you get to customizable your own private tour around Aarhus city with a local guide.
You will be picked up from Aarhus City Center. From here, your local guide will take you around your chosen area, so you can get much more familiar with the neighborhood. You will hear about the best places to eat, the simplest ways to get around, and the hidden places you might have missed.
When the tour ends, you will be able to navigate the city like a local. Furthermore, you will know that you have all the information you need to make the most of your stay. Your local guide will also teach you about cultural differences, local events, and how it is like to be a true local in Aarhus.
This will be a tour where you learn much about the people you meet as well as the places you see. Your guide is not like any other professional guide. Instead, you will discover the city with a passionate and dedicated local guide who is eager to tell you about his city and share his knowledge and perspective. This will provide you with an experience that is both authentic and personal. It might just feel like it is a friend showing you around in the city.
Please be aware that the more notice you give prior to your tour, the better. Because these tours are organized on demand and are completely personalized.
Copenhagen: 1-Hour Canal Cruise from Ved Stranden or Nyhavn
In under three hours, you can reach Copenhagen from Billund Airport. Copenhagen is the capital of Denmark and has many amazing sights and fascinating places to discover. If you decide to take a tour to Copenhagen, you can choose to experience the city with a 1-Hour Canal Cruise from Ved Stranden or Nyhavn. This is a wonderful and fun way to see Copenhagen's sights from the waterside.
On the canal tour, you get to sail on a boat along the main harbor and adjoining canals in the capital. You can depart from either Ved Stranden or Nyhavn, which are two places conveniently located in the City Center of Copenhagen. This will be a 1-hour tour from the water where you can explore how the past and present merge as you travel along idyllic canals, and going by several of the city's most popular landmarks, including lovely houses, ancient castles, and gorgeous churches.
The cruise ship will pass by Christiansborg and Amalienborg as well as the financial centers where you will explore buildings such as the Central Bank and the former Copenhagen Stock Exchange. You also get to see Little Mermaid statue in Langelinie while your tour guide will tell you interesting and funny stories about the many sights and buildings you pass along the way.
Copenhagen Tivoli Gardens Fast-Track Ticket & Optional Rides
If you are planning a trip to Copenhagen, you have to make sure not to miss out on a visit to Copenhagen's world-famous Tivoli Gardens. This is the world's second-oldest amusement park with fun for the entire family. With this Copenhagen Tivoli Gardens, Fast-Track Ticket & Optional Rides you can skip the lines and enjoy fast-track admission to Tivoli Gardens with your pre-booked ticket.
Once you are inside Tivoli Gardens you can explore everything from the many rides, the beautiful gardens and flowers, to the various cafes and restaurants where you can get a refreshment or a bite to eat.
Tivoli Garden is definitely a wonderful oasis in the city center of Copenhagen and one that you do not want to miss!
Copenhagen: Inner City Day Trip
With this Copenhagen: Inner City Day Trip you will get on a guided tour where you can discover the whole city from both land and water, visiting all the significant sights. Your guide will take you around in small groups on a bus, which you at times will jump off to walk around the city. Furthermore, the tour includes a short lunch break and provides you with the opportunity to see the city from a canal boat.
Your guide will tell you all you need to know about Copenhagen as you pass by Christiansborg Palace, which is the seat of the Danish Parliament, as well as Amalienborg Palace Square, which is the home of the Royal Family. Moreover, you will pay a visit to Rosenborg Palace, an original Renaissance palace that houses the Danish Crown Jewels.
Then you will get on a boat and spend an hour sailing around the old canals. From the waterside, you will see the Little Mermaid, Nyhavn (New Port), Christianshavn, Copenhagen Opera House, Boersen (the 17th-century stock exchange) and Kongens Nytorv (King's Square).
This is an amazing way to explore everything the capital of Denmark has to offer.
UNBEATABLE VALUE CAR RENTAL
FREE
Amendments,
FREE
Cancellations,
NO
card fees!

airport_shuttle Need Airport Transfers?
Useful Information about Billund Airport